| | |
| --- | --- |
| Posted on December 27, 2019 at 11:25 AM | |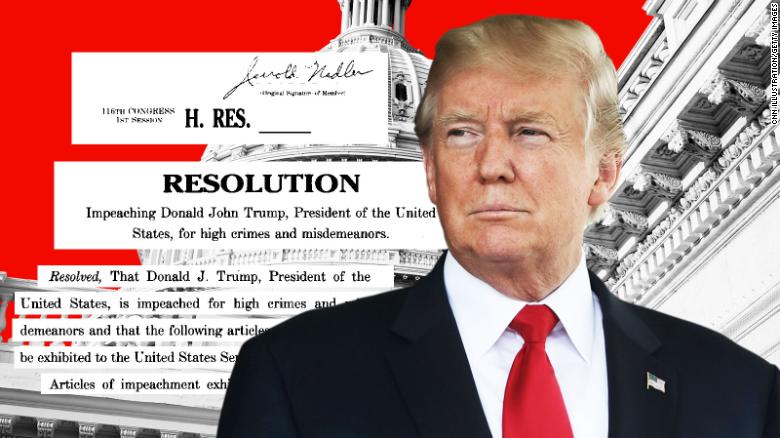 It is official, after years of being the United States' most controversial president, with some refusing to even acknowledge him as the president...Donald Trump has been impeached. The House of Representatives recently approved two articles of impeachment against President Donald Trump. This makes him the third president in history to face removal by the Senate. President Trump was impeached for abuse of power and obstruction of Congress. Trump's reign has been plagued with very questionable behavior on his part and his complete and total lack of decency. Trump has continually taken to social media to berate and bash everything and everyone instead of as a president should, remain professional. He has exhibited a terrifying racist personality and has made grave and drastic decisions that have impacted the Americans negatively.
According to reports by the New York Times, "Only two Democrats opposed the article on abuse of power, which alleged that President Trump corruptly utilized the levers of government to solicit election assistance from Ukraine in the form of investigations to discredit his Democratic political rivals. Republicans were united in opposition. It passed 230 to 197, with Speaker Nancy Pelosi gaveling the vote to a close from the House rostrum. On the second charge, obstruction of Congress, a third Democrat joined Republicans in opposition. The vote was 229 to 198."
Following the impeachment, a trial has been set for early 2020. This trial will take place in the Senate as they will have the final say on whether to acquit the 45th president or convict and remove him from office. Persons on social media are begging for him to be removed altogether but remain excited that he has even been impeached, to begin with. It is a possibility for him to be acquitted but this will follow him for the rest of his life. So disastrous was his time served that many are desperate for relief. President Trump's reputation has been forever tarnished.
In true Trump fashion, instead of taking his L and showing remorse or even being willing to resign as his predecessors have done in the face of impeachment, he took to Twitter in a rage and sent out multiple angry tweets. "SUCH ATROCIOUS LIES BY THE RADICAL LEFT, DO NOTHING DEMOCRATS," the president wrote. He continued, "THIS IS AN ASSAULT ON AMERICA, AND AN ASSAULT ON THE REPUBLICAN PARTY!!!!"
He later added, "I'm not worried. You don't do anything wrong and you get impeached. That may be a record that will last forever."
"But you know what they have done?" he said of Democrats. "They have cheapened the impeachment process." Senators, he added, "are going to do the right thing."
The nail in the coffin for President Trump's presidency centered around a half-hour phone call that he made in July. During the call he pressured Ukraine's president to announce investigations into former Vice President Joseph R. Biden Jr. and other Democrats at the same time he was withholding nearly $400 million in vital military assistance for the country and a White House meeting.
According to reports, "Congress learned about the call after an anonymous C.I.A. official lodged a whistle-blower complaint in August. When Congress sought to investigate, the president ordered his administration to defy its every request, leading to what the House said Wednesday was a violation of the separation of powers and a de facto assertion by Mr. Trump that he was above the law."
Many believed that Trump would have never secured the oval office, but he did. Now he faces being thrown out. What do you make of this situation? Are you happy he has been impeached or are you a strong Trump supporter?
Categories: None