| | |
| --- | --- |
| Posted on December 6, 2019 at 11:45 AM | |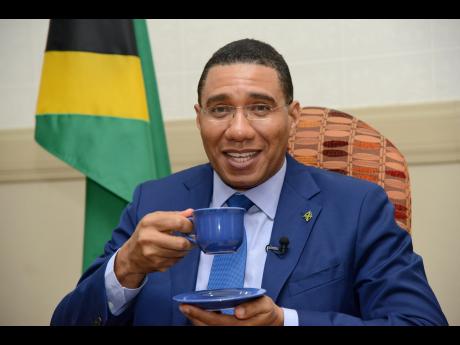 Recently a post about Prime Minister Andrew Holness went viral on social media and many are questioning the purpose of the post. Was it intended to embarrass him? Well, it had the opposite effect with many expressing their love and support and even relating to the most honorable brogad's struggles earlier on in his life.
The post highlighted the fact that Jamaica's ninth prime minister was such a delinquent when he borrowed money for his studies at the University of the West Indies (UWI) to pursue a degree in the social sciences in the 1990s, that his name was published in the newspaper among the most delinquent borrowers who had defaulted on their loans. This is something that many would never want to have revealed but it is a common struggle for many. University is very expensive and a lot of students have to borrow to pay for their studies and sometimes upon leaving the institution many are not immediately hired in their dream job or they have to settle for a lower-paying job that cannot begin to cover their debt.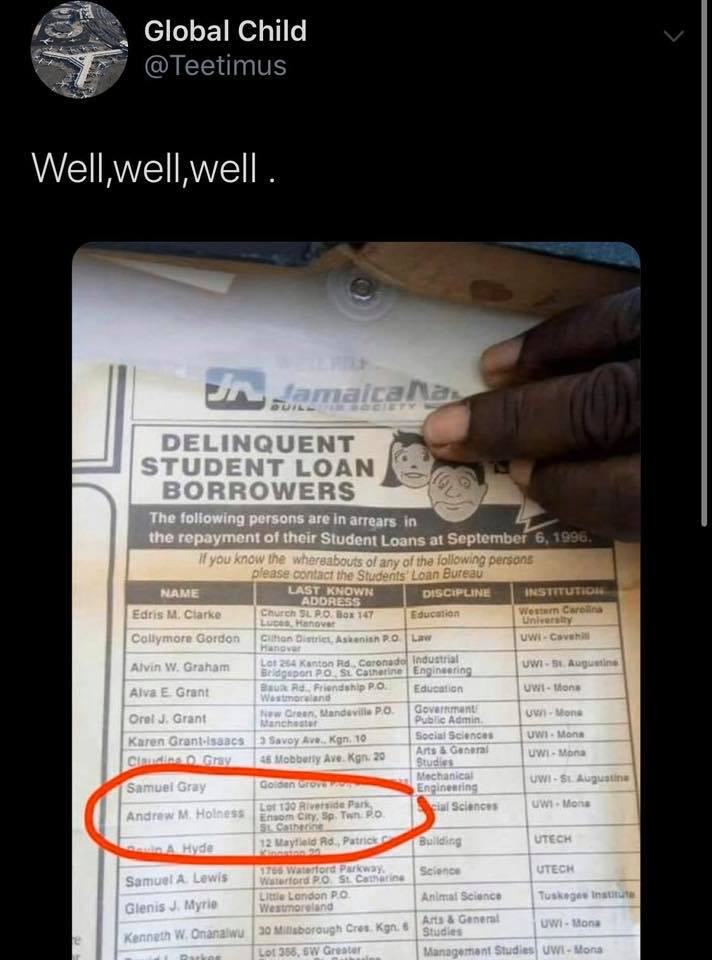 This excerpt is from Loop News. According to the full page newspaper publication from the Students' Loan Bureau (SLB), under the caption 'Delinquent Student Loan Borrowers: "The following persons are in arrears in the repayment of their student loans at September 6, 1996". Holness, now 47, would have been 24 years old at the time and about a year from making his entry into the House of Representatives, which he did when he won the West Central St Andrew seat in the 1997 general election. Holness' name is circled in red and his then Eltham City, Spanish Town address - his mother's home - is listed, as well as the fact that he was pursuing studies in the social sciences.
While it is not known whether it is the prime minister's supporters or his perceived 'political enemies' who made the post, what is certain is that his supporters on social media are pointing their fingers at his so-called enemies, while lauding Holness for rising from difficult circumstances. "I had a good laugh when I saw it posted with the intention to 'shame' the PM. Pity the poor fools," said a post from Carlene Ramsay. "Love this," said Shirley Matthews. For his part, Isaac Morrison said "The pain pee (PNP) think they hurting him but in fact they helping him". "Big up Brogod you know the people pain," Ray Williams added.
In his own post, Government Senator and Parliamentary Secretary, Robert Morgan stated, among other things, that this was proof that "every ghetto yute can be great'; "from nothing to something," and "from board house to Jamaica House". Holness has often told the story about his humble beginnings, including living in a board house at what would be considered a tenement yard in Spanish Town, St Catherine. He attended the nearby St Catherine High School and was spotted by the late former Prime Minister Edward Seaga in the mid-1990s doing volunteer work and was introduced to politics. The rest, as they say, is history. It ends here.
Now the Prime Minister has been on a path to attempt to secure the votes of the younger crowd and I definitely think this makes him more relatable. He truly rose from nothing to something and has become such an inspiration for many. Some have been begging him to release artiste Vybz Kartel from prison in time for Christmas to secure votes but from where I stand it seems the Prime Minister has the election locked and he could very well easily walk away the victor.
What do you think about this viral post about Brogad Andrew Holness? How would you feel if you were in his shoes?
Categories: None